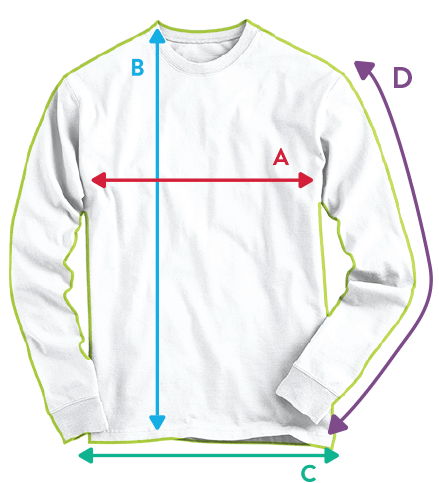 Port & Company PC61LS
This chart refers to the longsleeve shirt's dimensions laid flat. Measure one of your current shirts along the same A B C & D lines to find which size would fit you best.
Please note that these measurements are averaged approximations of each size. Minor variances may be present.
Inches
| | SM | MD | LG | XL | 2X | 3X | 4X |
| --- | --- | --- | --- | --- | --- | --- | --- |
| A | 17.5 | 19.5 | 21 | 23.25 | 25.25 | 27.5 | 29 |
| B | 27.5 | 29 | 30 | 30.25 | 32 | 32.5 | 33.75 |
| C | 17.75 | 19.75 | 21.5 | 23.5 | 25.5 | 27.5 | 29.25 |
| D | 25.75 | 25.75 | 25.75 | 25.75 | 25.75 | 25.75 | 25.75 |
Centimeters
| | SM | MD | LG | XL | 2X | 3X | 4X |
| --- | --- | --- | --- | --- | --- | --- | --- |
| A | 44.5 | 49.5 | 53.5 | 59 | 64 | 69 | 73.5 |
| B | 70 | 74 | 76.5 | 77 | 81.5 | 82.5 | 86 |
| C | 45 | 50.5 | 54.5 | 59.5 | 65 | 70 | 74.5 |
| D | 65.5 | 65.5 | 65.5 | 65.5 | 65.5 | 65.5 | 65.5 |